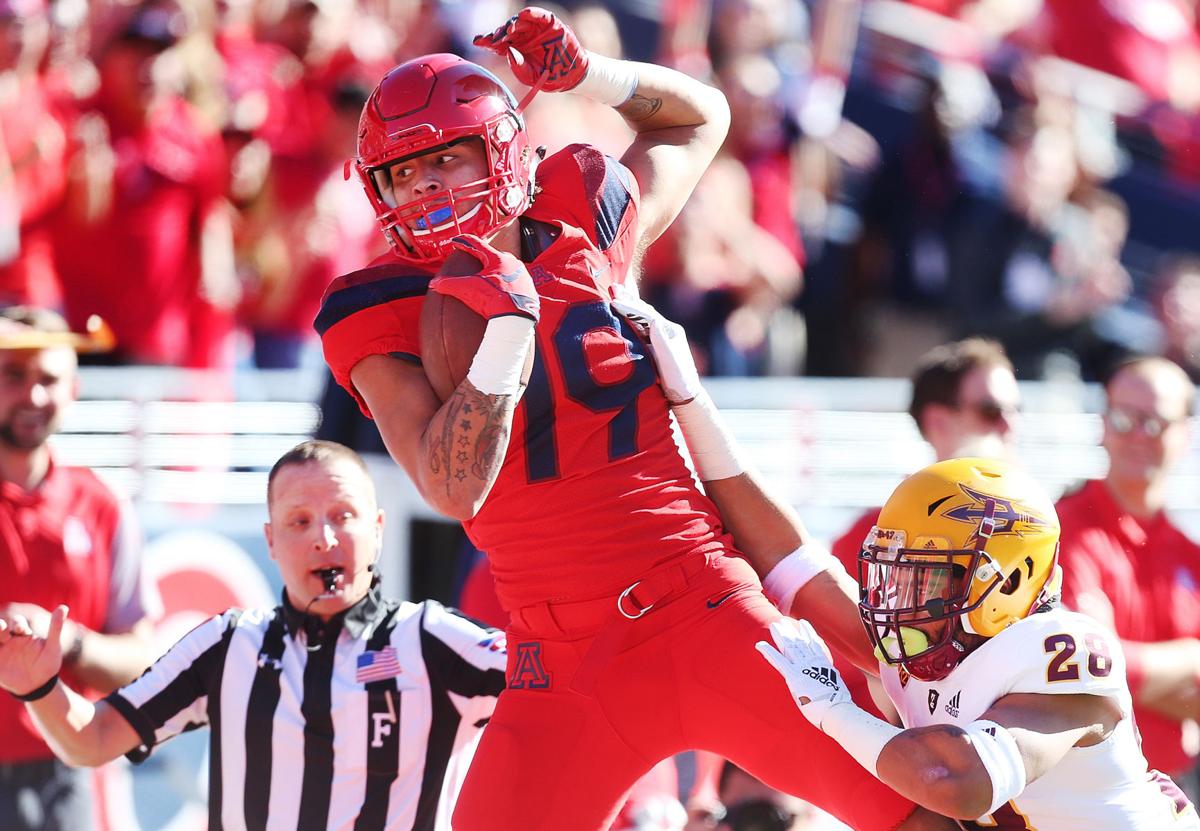 BIG-E Predicts:
Shawn Poindexter WR from Arizona will be a Pro-Bowl receiver by Year 3!
Poindexter is not a guy you've heard of. He is a deep Draft diamond that I dug out of the muck and the noise. He is a guy that played in a big FBS school but has been hiding in plain sight. He is going to be available to be drafted by the Browns in the 5th Round or later. He is one of the most impressive Wide Receivers I have seen from the standpoint of ball skills since Mr. Mike Evans. Poindexter models his game after Mike Evans and has all the tools, similar measurables and the desire to win to be a VERY similar player to Evans.
Some of the similarities are uncanny…and to make the whole scenario seem more like fate? In Poindexter's Senior year, Arizona hired a new coach…Kevin Sumlin. That was who coached Mike Evans at Texas A&M and Poindexter thrived under him too…
Granted Evans had a ton of yardage in his first year, but he did not produce many TD's. Could have been how he was used, maybe not a lot of Redzone action. But Poindexter had a VERY similar second year production-wise. Yardage and TD's nearly identical. Next let's take a look at their physical profiles:
Evans certainly had more weight on him, more muscle mass and a more powerful lower bubble. Poindexter has some serious weight room work ahead of him, but that does not mean he won't impact immediately. And let's also not forget that despite Evans having that extra physicality, he did not produce much more than Poindexter did.
Unfortunately Poindexter was not invited to the Combine but he did play in the East West Shrine Game so managed to get some data from the weigh in.
On film looks to have great hand and arm strength. DOES NOT DROP BALLS. His drop rate was 2.3% for his college career. College Volleyball player as well, so jumping/leaping is a naturally strong skill set for him. Has great hands, decent long speed and ball tracking is excellent.
By all accounts is a super kid, wants to be great. Hardest worker on his team. Everyone around him raves about him and his attitude. His personal standard for excellence will allow him to be a success in the NFL. He will want coaching and will work on his craft to be he best he can be.
Let's the ball into his body at times, but shows great skills to pluck so not sure if his body angles or body positioning are a little off. Long speed on film looks ok, and his Pro Day time of 4.63 unofficial was not outstanding but also not terrible. Clearly his highlights show him getting separation but he is no burner. Will find himself a clear and significant Redzone threat with upside as an every down X-Receiver and Big Slot. Seems to get off press alright but in the pros will need more strength and lower body power to defeat it and fight through defenders arms to possess the ball.
And don't we have a need on the roster for a long, strong jump ball X-Receiver?
The excuses from scouts will be that he was a late bloomer, with little production and iffy speed. I say draft on what you can't coach, then coach better and help this kid achieve his Pro Bowl destiny!