I don't know what it is about the UDFA process that keeps the excitement level up so high, but I have some theories…certainly it is like getting more draft picks for free, and who hates that, right? For those of us in the CLE it also is about the underdog, who generally is treated like a king in our town when it's a sports figure. The backup QB always the most popular QB? 100% true until we drafted Baker. There is some deep-rooted history of underdog love in this town. Or, it's like the kid who has his birthday a week after Christmas. Double down on presents, and the adults have to let it happen! Buy one get one shots! We all win in these situations.
Another thing it indicates though is how deep and how good our relationships are in certain conferences. This plays a vital role in convincing guys to sign or take a tryout slot with us. Also in play here is certainly quality of roster depth, chances of making the team or making the 53 man. And let's not pretend that how often a team makes the playoffs and has been to the SuperBowl matters. It does matter, and we have a lot of miles to drive before we get marquise UDFA players because they want to play for a perennial winner. Right now we're getting guys on relationship and on % chance of making the roster and seeing the field.
As we get better and become the kind of team we intend to, we should see very few UDFA's make the roster unless we uncover a gem or a guy who should not have fallen out of the 6th. These talented fallers though are the hardest to sign, especially if they come from a big P5 school. They want to play for a contender, and the relationships our scouts cultivate in these schools is paramount. Also, the more guys we draft from, say LSU, the more likely other LSU players are to come here. Miami seems to be our current center of gravity thanks to Alonzo Highsmith. But we need kids from a lot of the other good SEC and ACC schools to be interested. This will take time, and as Dorsey refines his scout team and we win more games, things will break our way.
It is interesting to note that there are no major schools on this list of UDFA's besides Miami. Arizona State is the next most impressive. That's pretty thin guys. But it could also be by design. Who knows with Buddy Boy, he could be focused primarily on small schools and lower level conferences for these 6th round through UDFA type players? Hard to say, but there was some premium talent left on the board after Saturday, and by landing Wyatt Ray we got one of the mid-premium guys left. Not bad, he could make the initial roster, not sure about the 53. Dorsey knows, he has work to do in this area…
Below is the full list, as we know it today, of signed and tryout players. Below that I do a little deeper look at a few of the players that have a better shot at making it out of camp and onto an initial roster.
Based on the positions represented below, we clearly want to improve the TE group, see if we can unearth a flashy WR and LB, and no doubt feel there is room for more depth in the secondary. Signing 6 Safeties feels more like we're not satisfied with that position yet. I don't think it's likely that we just got lucky and 6 Safeties wanted to play for us. Let's also not forget that Steve Wilkes likes to play subpackages constantly and will have that LB/S hybrid on the field a lot. Based on 5 of the 6 being six feet tall or better, he may be on the hunt for at least one guy who can play that role.
Considering our need for better depth at DT, I am not surprised at all that we only have two on this list. DT depth after Round 1 was HORRIBLE this year. We can't expect the UDFA pool to hold a bunch of ready-to-play guys. We are also looking for length at DT, so when the majority of candidates are 6'2″ or less, we don't have nearly enough to choose from. The two we see here are 6'3″ or better…fitting the model we want. The three LB's here are interesting too, one playing at Akron (with a back story you might be familiar with already) and two kids out of midwestern schools.
Willie Harvey is my favorite player in this entire UDFA group, but I love Linebackers in general, so that is not a major surprise. To me, the modern LB is the ultimate Possession Player, who is able to play multiple roles on the field at a high level, and sits in that middle part of the field where if they are extremely effective, they keep our secondary from having to cover for so long that eventually guys will uncover. I believe our man Steve Wilkes is trying to build a Defense based on speed of action and ball skills: Quickly collapse the pocket up the middle, Edge players flank the pocket with speed and power, Linebackers who are fast and explosive race to bring down ball carriers, hopefully free of blockers. Our Linebackers and our Safeties/sub package hybrids come in with ball skills to play the pass. All of this hopefully leads to forcing the opposing QB to make a fast decision to throw to his second or third read because our smothering Corners have the best receivers locked down. Those Linebackers play many roles in this scheme and Willie Harvey looks like a kid who fits that pretty well…
OFFENSE
QB David Blough – Purdue – 6-1, 205 lbs.
RB Darrin Hall – Pittsburgh – 5-11, 225 lbs.
RB Trayone Gray – Miami – 6-2, 240 lbs. TRYOUT
WR Dorian Baker – Kentucky – 6-2, 206 lbs.
WR Chris Osei-Kusi – Queens – 6-2, 197 lbs. TRYOUT
WR D.J. Montgomery – Austin Peay – 6-1, 201 lbs. TRYOUT
TE Stephen Carlson – Princeton – 6-4, 240 lbs.
TE Mavin Saunders – Kansas – 6-4, 236 lbs. TRYOUT
TE Odell Miller – Western Michigan – 6-3, 270 lbs. TRYOUT
OT Brian Fineanganofo – Idaho State – 6-6, 295 lbs.
OG Trevon Tate – Memphis – 6-2, 293 lbs.
DEFENSE
DL Dougladson Subtyl – Arizona State – 6-5, 251 lbs. TRYOUT
DT Gary Moore – Minnesota – 6-3, 304 lbs. TRYOUT
EDGE Wyatt Ray – Boston College – 6-3, 257 lbs.
EDGE Jarrell Owens – Oklahoma State – 6-3, 262 lbs.
LB Dedrick Young – Nebraska – 6-0, 233 lbs.
LB Willie Harvey – Iowa State – 5-11, 226 lbs. TRYOUT
LB Brian Bell – Akron – 6-3, 218 lbs. TRYOUT
S JT Hassell – Florida Tech – 6-0, 199 lbs.
S Jermaine Ponder – St. Francis – 6-1, 197 lbs.
S Aaron Wade – Utah State – 6-1, 200 lbs.
S Bo Brooks – Missouri S&T – 6-2, 209 lbs. TRYOUT
S Amani Dennis – Carthage – 5-11, 175 lbs. TRYOUT
S Jontrell Rocquemore – Utah State – 6-1, 210 lbs. TRYOUT
CB Jonte Pooler – Charleston – 6-0, 170 lbs. TRYOUT
SPECIAL TEAMS
K Spenser Thompson-Meyers – St. Norbert – 6-1, 195 lbs. TRYOUT
P Jamie Gillan – Arkansas Pine-Bluff – 6-2, 200 lbs.
LS Nick Reinhardt – Arizona State – 6-1, 241 lbs. TRYOUT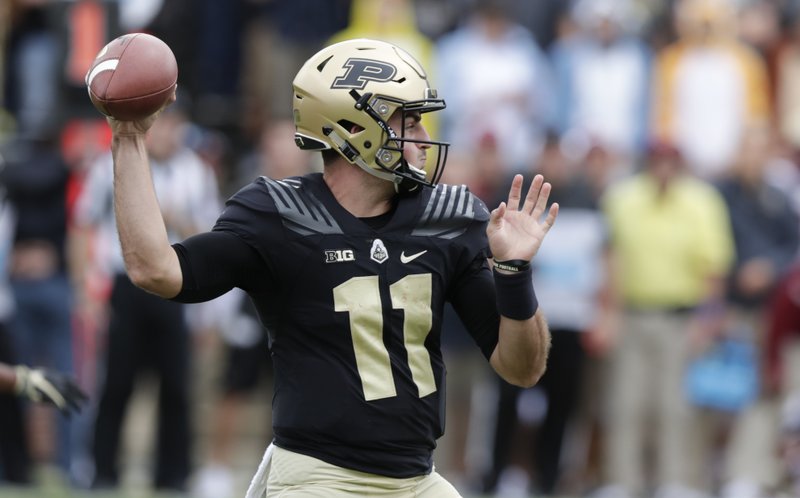 Blough is an interesting case for making the team, most likely as our practice squad QB, but stranger things have happened. Stanton just based on NFL playing experience will hang around another year (2019 is last contract year) before we replace him. The kid from the AAF we signed has size and an arm and decent AAF stats, so there will be competition for our QB3 spot.
Blough is only 6'1″ and 210 lbs so he's built like Mayfield. Very accurate thrower, has a nice compact motion and throws a very tight spiral like Baker as well. Very catchable ball. Can drive the short and intermediate throws, which is where he makes his money. Struggled with deep balls most of his college career, but his new coach senior year seemed to solve his tendonitis situation and greatly improved his deep accuracy and cut down his interceptions.
Pretty good stats, especially senior year. Couple of signature wins, one was against Ohio State. Purdue teams he was on were largely complete crap, so with improved throwing downfield and better players around him he is likely a better overall QB than he looks on paper. Probably can eventually become a real QB2 backup as he does possess pretty good processing skills to go with reasonable natural throwing skill set.
Purdue did produce Bob Griese and Drew Brees after all!

Darrin Hall has some ability. He might just be a clone of Dontrell Hilliard but Hilliard had significantly more production in college. Hall didn't start scoring TD's until his junior year. Hard to say if he can bump anyone off the roster, but might make the practice squad if we really want new blood. One cut and go type guy like Hilliard. Good but not great speed, looks for daylight and goes.
Osei-Kusi is the most interesting of the WR's. Played football exclusively in Canada and seems to have some speed. Bit of a body catcher and there isn't a lot of splash plays in his highlights, but definitely tough as nails. Not afraid in traffic and will bully his way into the endzone and for extra yardage. Not sure exactly what the attraction is here because he doesn't seem to bring any really special traits. Limited film to review, so could be missing something.
Ray has good but not great size, only 6'3″ and 257 lbs. He might have a shot at an initial roster spot or the practice squad. Definitely a depth player you would consider high floor low ceiling. Late bloomer, didn't put up any real production until his senior year, but numbers that year looked good. Certainly figured out how to get into the backfield finally. Couple of passes defensed as well, but with his length you'd have expected that to be happening his entire college career. The majority of his 2018 sacks all came in one game, so not quite as impressive as it should be.
Lacks bendy skills, really struggles turning the corner. Lacks secondary pass rush moves and often doesn't have a plan. Combine numbers all looked good from an athletic standpoint and would expect that to be part of what's necessary for him to succeed at NFL level. Until he puts it all together, he's just a guy. Interestingly, couple of evaluators said he was nearly as good as Josh Allen from a pass rush standpoint, and Allen was also a late bloomer…we will see…
Man you are gonna like this kid…here I was, all in love with Ulysees Gilbert, the other LB playing for Akron (who the Steelers took…) and we might have gotten the correct one, maybe the better one. Gilbert is ultra fast but tiny compared to Bell. Gilbert goes 6'0″ and 230, but Bell is 6'3″ and 235. The length makes a huge difference and it's what Steve Wilkes is looking for in his Linebackers.
Bell is quicker than fast and incredibly instinctive. Watching his highlight film was rather amazing. He really seems to trust his instincts and his speed, as he does not immediately move at the snap of the ball. He waits, and watches and reacts like lightning once he sees the play developing. You lose sight of him for a second and suddenly he flashes into view scraping down the line like a demon from hell and makes a tackle on the RB. He can smell the mesh point like a goddamn dog and he knows exactly how to get there fast. His angles are so efficient and his ability to avoid the trash seems uncanny, at least in the film I watched. Dude just made plays, everywhere. His production won't blow you away, but I think it's just a matter of putting him in the right role to take advantage of his abilities to the max.
I think he's got a decent shot considering we're looking for that hybrid type that can cover, run and chase, make strong tackles and defend passes too. Bell played all three Linebacker spots. Will be interesting to see how he looks on the practice field with other NFL guys and our new draft picks. He might surprise.
Willie Harvey. The kid with two first names. I am a little confused by what I am reading about his situation, as it says he's got a try out with the Browns but also with Jacksonville. So apparently that means that our camps must be on different dates and he will attend both? Strange, can't say I was aware that was a common thing prior to hearing this about Harvey. Anyway…
Harvey is my kind of guy, and reminds me a little of Sione Takitaki in his play style. He's a violent hitter, meets his man in the hole with extreme prejudice. He is determined to stop the runner, but he also has a knack for creating turnovers, with 5 forced fumbles in college. He has been getting in the backfield for TFL's consistently for 3 of his 4 years. For his role, also has consistent sack numbers every single year, thanks to his speed to chase and close on the QB. Pretty impressive production overall.
Many teams are going to find him too undersized to stay on a roster. He goes 5'11" and 220 lbs, so he is pretty small. But his range and lateral agility make you think twice and could help him stick to a roster, even for Special Teams work to start with. Has a lot of trouble shedding if he gets stuck on a lineman, so might be better suited in a traditional 3-4 alignment, but a hybrid role could also solve that issue in a 4-2-5 or other sub package scheme. I really like his upside and chances to at least make a practice squad.
Here is another player that's easy to like. My first thing is that I love that he played at Carthage…where is that? What is that? I have absolutely no freaking idea what college that is! But it's a cool name and even better, Dennis can PLAY FOOTBALL my friends…
He's a Free Safety, someone who you can put in single high or Cover 2 and any other scheme. He's extremely versatile, which I think is the trait you like most when you pair it with his ball skills. Kid just flat out makes big plays. He's a turnover machine with elite level ball skills already. No matter where he is on the field he will find a way to come down with the ball or knock it down.
At 5'11" and only 175 lbs, he will not even make it on many team's list of potential phone calls. But man he plays like he is 6'2″ and 200 lbs! I was absolutely shocked because I watched his highlights before I noticed his measurables and damn if he didn't come off like a much larger defender than he is.
Make no mistake, he has speed, running a 4.36 and can jump 34″ or better. Had a 9.8″ broad, 4.16 20 yd shuttle and a 6.81 3 cone. All excellent scores, even for a kid his size. And it all shows up on film. He can tackle, he can cover. Smooth, extremely fluid. Moves into man coverage with the ease of lock down Cornerback. Truly fun to watch his film, would love to see him live in a game. Watch his highlights, you will NOT be disappointed…
Easy to root for this kid and I really hope he blows the doors off this dress rehearsal in camp!
Jesus, our scouts seem to have done a nice job unearthing some good players to bring to camp. Jontrell Rocquemore not only has the coolest name in all of football (college or pros) but dude can PLAY. He's a Strong Safety with some versatility to also play some man and zone more like a FS.
Really nice size at 6'1″ and 210 lbs. Ran about 4.60, did 15 on the bench and jumped 39″. His 3 cone at 6.99 and 20 yd shuttle at 4.31 were both excellent. He is strong, fast and has big time jumps. Great profile for a hybrid Safety/LB which is exactly what he's capable of.
Absolutely fantastic tackling machine. Consistent and reliable open field take down artist who clearly enjoys that part of the job. Makes excellent waist high and lower leg tackles. Can lay some wood when he wants to, but primarily knows his job is to stop progress. His senior year saw production jump up significantly (he missed a lot of games in 2017 due to injury). He started getting into the backfield, got a few sacks and some INT's to boot. He will have great range and play speed allows him to expand his tackle radius.
All around solid player who also might surprise at the next level. I believe his best football is still ahead of him. Has versatility to play in the box on run downs then switch to sub package LB or Star and even further to play zone or man makes him really valuable.
Another fun kid on film who I can't wait to see in camp!
How could you NOT sign a kid with the nickname Scottish Hammer? He is primarily a punter and apparently a good one. Will be around to push Colquit (who does an excellent job for us). Can kick in a pinch, but his stats are not great as a kicker. Will be interesting to see how a lefty does at NFL range…he supposedly has an incredible leg.