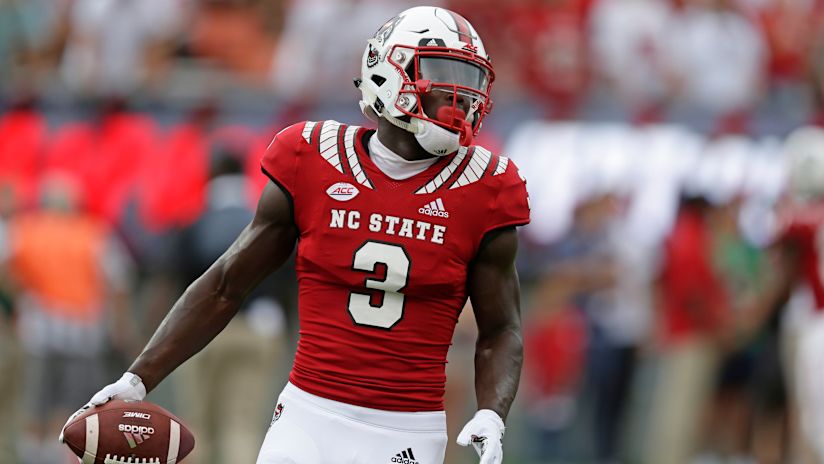 Even though I have listed Kelvin Harmon and N'Keal Harry has players we should be interested in, I am not doing a normal Eval for these two. I believe they likely to get drafted in the middle of Round 1 through the middle of Round 2. Position value for such limited receivers at this point for the Browns is very low. We have screaming needs on Defense and at other higher value positions on Offense.
These two would be luxury picks this year and would need to be Pro-Bowl caliber instant starters if you took one of them. If they were more multiple we might make a stronger argument. I simply prefer to pass on this specialized position until next year as we add talent to our lines and the LB/Secondary corps.
GOOD: Ridley does his damage to a Defense in the open field. His burst and change of direction are top notch and the impact is in getting him open rather than getting a lot of yardage after the catch. Has a very lean and wirey frame that probably won't take a lot more weight but he's very strong at the catch point and wins in 50-50 situations.
His elite skills in terms of route-running, situational awareness (markers, boundary) and ability to read coverages to get open is what makes him a high pick, as these traits are rare and you always are willing to pay that premium for this type of player. It's really hard to get credit for these mental processing skills, it's not always apparent on tape. Combine this with his contested catch abilities and he will be playing on the regular in his rookie season.
BAD: Oddly, he lacks traditional explosiveness completely. Looking at his Combine numbers you wonder how in the world he could compete as an X-receiver. He will get jammed in the NFL which will be a problem for him unless he's got fast, active hands to defeat it. Lack of power in upper and lower body can improve over time but it could be a factor that limits his playing time.
Has concentration drops, which is bad considering his hands are enormous, but maybe he is trying to assess the field when he should first be looking for the ball? Is a willing but somewhat ineffective stalk blocker. Needs to improve fast and gain strength if he wants to be on the field.
BOTTOM LINE: Ridley is a chain-mover, there is no doubt. But his shocking lack of explosion and power is mostly to blame for his lack of YAC. His production in college was very low, but he was on a team stacked with other talent who were priority targets. I wish he was multiple, and maybe he could play some Z, but his speed is only so-so. Must learn to get of press coverage fast in order to be effective. WR1 potential, WR2 almost immediately. Good value in late Round 2 if you can get him there.
GOOD: Wow what a specimen this kid is. He exceeds every physical attribute you'd want, and has very good long speed to go with it. Absolutely elite body control and 50-50 catch ability. Boxes out like power forward. If he bodies you up, you simply have no chance as a DB. Damn near 11 inch hands and 35″+ arms…ridiculous!
Has a great bubble (so important in my mind) so his lower body strength has provided him with exceptional contact balance. He shakes off defenders consistently, in part because they have no fucking clue how to get him on the ground.
Known to be an exceptional person with leadership qualities, incredible work ethic and puts in effort on every play even when the play is not about him. Just a straight baller and someone who will make people around him better.
BAD: Lacks burst and suddenness. What is strange is he scores so high in all the tests that indicate explosion, was given a 120 SPARQ rating which is tremendous, but on film you can see his stiffness and lack of burst. Long strider who takes a minute to build up speed. Apparently had a few games where he experienced terrible drops. If I had to guess he was probably the only weapon on the team so pressure was high. Mid-level of competition in the Big 12 but tell that to Baker. Needs a lot of polish on this routes and must be able to defeat the press jam to get on the field early.
BOTTOM LINE: It's like he was built in a WR factory. Despite the lack of explosive power and jumps, Butler came on in his last two years to put up a ton of yardage. Honestly he should have had twice the number of touchdowns considering his size advantage, so that makes me wonder. Good news is he's one of the Robo-WR's that does not have a concerning medical history.
I love his courage (mom died of cancer 7 yrs ago) and work ethic. I think once he gets more strength and understands how to use his natural leverage you can use that speed of his out of several slots to make him more multiple. Iowa State just didn't use him that way. WR1 potential, WR2 immediately as a rookie starter. If you can get him anywhere after Round 2 that's incredible value.
GOOD: Well gang have a look at these scores…outside of the Bench Press number (almost seems like a cruel joke) Mr. Boykin had himself a Combine! Size, speed, explosive measures all check. He is a leaper, a high-pointer and might have some of the strongest hands in the entire draft. He was given the highest SPARQ explosion grade of any WR and at 150.0 it might be a perfect score.
BAD: But where is the production? Look at his stats and ask yourself where has he been for 3 years? Notre Dame is not stacked at WR like Ohio State or Georgia. Why did they not trust him? Only 11 TD's in 3 years sounds like TE numbers not a guy who in college should have been WR1.
When you watch him play he seems stiff in the hips and lacks burst and suddenness. For all of these explosive scores why does it not seem to translate on game day? He's terribly inconsistent with his route running. Has some serious focus drops and often fights the ball rather than catching it cleanly. Is this due to focus issues which lead to not being ready for the ball to arrive?
BOTTOM LINE: Honestly as good as his Combine was I don't know if it improved his Draft slot at all. Some team may bet on his upside because that's what he is at this point. Really a weird situation where the tape doesn't match the numbers. WR2 ceiling, maybe gets on the field as WR4 as a rookie. Lots to work on. Would be great value in the 5th Round, some team more likely will take a flier in the 4th.