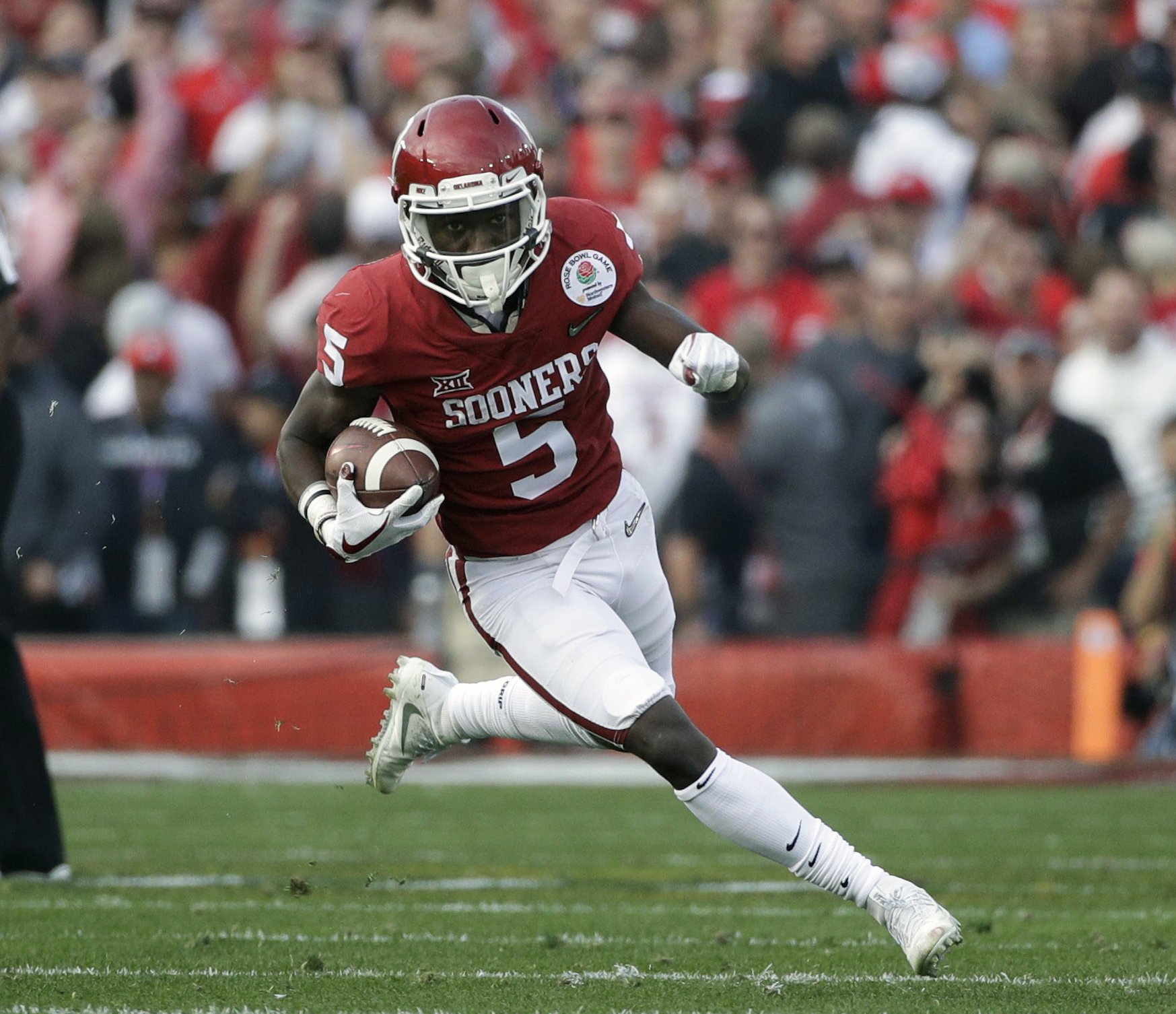 This group has an odd look to it but for good reason. There are tiny speedsters and big giant trees in this set. But they all can work out of the Slot and play primary out of the X just as effectively. These guys should not only offer yardage production but also TD's. They are your best combination of being multiple and impactful because scoring points is how you win games, it's not just about the yards.
Where this gets interesting is when the production doesn't seem to match the measurables. Why are so many of these guys only showing 1 or 2 years as starters? Power 5 schools are always going to be stacked with talent so it's hard to get on the field consistently in those programs, so that should mean something if a guy has 3+ years of production at one of those power house schools, right?
GOOD: Simply breathtaking in his playing speed, explosion and quickness. Elite in all regards to on the ground movement. Can separate in a blink, jump out of tackles and burn you to the ground if you're not squared up and ready to tackle him. Incredible contact balance and field vision.
Knows how to get open and knows how to score. In only two seasons starting at OK he stuffed the stat box with yards and TD's, although the offense OK runs was a huge benefit and having Baker as your QB was nice too. Lindy's Sports has him rated #1 WR in the draft.. Very effective out of the Slot and can stack a DB so fast on deep routes he often looks completely uncovered! Love that he never runs to contact when it's not necessary.
BAD: He's no bigger than a church mouse. Very susceptible to injury in the pros and can't stand up to crushing blows across the middle on every play. If you can't properly spread the defense out, he must be protected by running him out of the Slot into the shallow flats, out to the perimeter or on go routes where he can stack and run free.
Small hands, but strong. Not always a great hands catcher, will let the ball into his body pretty often. Very challenged on contested catches so will need a QB who can drop it right into his bucket or in full stride so he's not fighting DB's on every catch. Will get pushed around out of the X and has very little chance to improve that situation so must use his speed and agility to avoid press.
BOTTOM LINE: Maybe a bit of a luxury weapon in the 1st round, but man can this kid produce. I guess is production a luxury or a necessity?! It's a buyer beware situation similar to his NFL comp which is DeSean Jackson. Injuries are a huge concern because availability is the best ability you can have in the NFL. Scheme him right and keep him out of uneccesary hits and he could be your go-to weapon anywhere on the field for many years. Would be an unreal kick returner if you didn't get him killed! WR1 potential, WR2 immediately as a rookie. Anywhere in the 2nd round is a run-the-card-up-to-the-podium moment…
GOOD: Looks way taller than 6'2″ and plays like it. Really tremendous ball skills, some of the best hands in the draft. He will win at the catch point 99% of the time. Bodies up DB's and blocks them out like the basketball player he could be. Has some quickness according to some but I would term it suddenness instead. Red zone weapon plus plus and probably his best role in the NFL will be coming out of the Slot until his team reaches Red zone length then he can move around a lot more. Showed excellent leadership, was voted a team captain.
BAD: Struggles badly to separate and this will only get worse in the pros. Has had the benefit of undersized and slow DB's to fight off and had trouble with that. Generally slow play speed and no 40 time from the Combine to confirm this. Not surprised he didn't run, it was likely to hurt his value.
College production was extremely limited until his final year and then he was used properly to score TD's. Needs tons of work on his route running, rounds off too much and won't be able to work as an X unless he finds ways to get off press using hands, quickness or upper body power to push past and get into his breaks faster. Allows DB's to crowd him on the boundary.
BOTTOM LINE: Arcega-Whiteside is a massive jump ball weapon and as long as you don't need him to create on his own you'd have yourself an interesting addition. I think he might end up being a WR3 on a team that already has two very high level weapons and JJ simply gives that team another dimension. Maybe the other two guys don't have quite the body-up ability so his special skillset comes into play as a situational Red zone guy. WR2 ceiling but most likely caps out as a specialty WR3. Value is ok in Round 3 but since he lacks speed and explosion I'd rather find him in the 4th.
GOOD: Absolute jitterbug feet. Gains separation and jukes his way to additional yardage on his amazing jumps. Gets YAC that you want out of a Slot guy and has some ability to play X because his speed allows him to stack quickly and get out ahead. Play speed is noticeable versus other players on the field with him. Really refined routes and has special hands despite them being smallish. His concentration and ball tracking precision are impressive. Great kick return candidate.
BAD: Really weird how his measurables don't quite jive with what you see on the field. If you look at his combine results you don't really see the markers necessary for explosion and his 40 time was simply terrible for someone who weighs less than 185 lbs. Somehow though he is just a baller when it matters. Size does offer significant injury risk like all guys with his profile. Will have a really hard time with press corners in the NFL.
BOTTOM LINE: Looking at Godwin's stats reminds me how easy it is for and SEC Power 5 program to have so much talent as to under-utilize a player like him. His targets were amazingly consistent and he contributed immediately as a freshman. Problem is his role never increased. So again kind of like JJ Arcega I think Godwin is a complementary piece to a team with great WR1 and WR2 in place. He can certainly be used for more touches per game but it will require putting him in good situations to impact. WR3 ceiling most likely. Good value in the 4th, great value in the 5th or later.
GOOD: Incredibly versatile player who has tweener measurables. He also is that real live swiss army knife because he does not have one elite skill, he is a collection of do-it-all very well skills. Great hands, decent contested catch ability, good upper and lower body power, plays with a bit of anger so he is not getting pushed around. Runs pretty good routes and has very good elusiveness for a kid with fairly explosion. Definitely a guy who can return kicks for you and this probably offers him great opportunity to get on the field a lot.
BAD: Production was poor overall but his QB situation was pretty shitty. Average speed and not a ton of quickness. Elusive yes, jumps not so much. His lack of explosion will make it tough for him to separate in the NFL. Only average hands but strong hands so 50-50 balls are usually won.
BOTTOM LINE: I think Williams is a great addition to a team that is still looking to elevate overall WR play and he also kicks in nicely as a returner. He will be a Day 3 kid, but offers tremendous value in any round 5 or later. WR3 max ceiling but WR4 would be a great role for him.

GOOD: Another guy with tweener size, smallish hands and a long lithe frame. Good muscle mass for his frame with a lower bubble that gives him some leverage and push against press corners. Ran a nice 40 at the Combine and it shows in his play speed. Good blocker and really effective special teamer.
BAD: Really average receiving skills. Just is not offering any elite traits on the field and it shows in his production. His senior year saw him score 11 TD's which is impressive but he was utilized differently. Was not targeted that many more times, just was put in situations to score. Never going to be a yardage producer.
BOTTOM LINE: McLaurin is a bit of an enigma for NFL teams. He shows incredible special teams contributions and that is how he's going to get on the field fast and often. I think he's going to be taken by a team who wants that speed and ST coverage ability knowing he can also come in as a WR4 or WR5 when needed.
He comes from a huge and successful program so he will get a lot of looks starting in the 4th Round. He will not be a guy you can put a lot of expectations on for production but his energy and aggressiveness will make you want to find opportunities for him. Anything Round 5 or later is good value.
GOOD: Dude has wow ball skills. He's a no doubt X or Slot guy with the long speed and power to stack DB's. Upper body strength is tremendous and he uses it to full advantage when high pointing and working through contested catch situations. Elite hands, ball tracking and masterful over the shoulder catch player. Makes acrobatic catches look like nothing. Plays with extreme malice and aggressiveness. Has nice overall elusiveness and some explosion in the open field to get yards after. Pretty good stalk blocker too.
BAD: Low level of competition. Probably maxed out as an athlete and does not have a true second gear to run away from coverage. Average at best route runner who needs some serious work before he can be effective in the NFL.
BOTTOM LINE: Johnson has been suggested as a 5th and 6th round pick by many, and a few think he's so good that he might be a borderline 1st! I don't see that happening, but would not be surprised at all if was taken in the 3rd Round. He was massively productive as the WR1 in a subpar conference school. His heart and effort will likely not allow him to fail and so he will do the work in Special Teams to get on the field any way he can. Think of him as Terry McLaurin with MUCH better ball skills and power. WR2 ceiling with WR3 easily attained as a rookie if he lands on the right team.
GOOD: I love me some Mecole Hardman. He's a poor man's Marquise Brown and not a bad facsimile at that. Want to know who took reps away from Terry Godwin at Georgia? This kid did. Smoking speed, agility, quickness and explosion. Dude has moves for days and can work out of any WR spot.
He's got speed to stack as an X and has fairly refined route skills for what he runs. Breaks out to the flats and to the boundaries with urgency. Separates in a flash with his quickness. One of the most feared return men in the SEC. Not a ton of targets but he made the most of his reps and scored often considering the low target count. He's a guy that you want on your team for leadership, attitude, work ethic and enthusiasm. All around incredible kid.
BAD: Still has a long way to go as a route runner and in college had very specific plays created for him to get him in space where he could do damage. Size and strength always a concern for guys like Hardman. Basically completely ineffective as a blocker.
BOTTOM LINE: Hardman is a guy who can be on your team and help you win, or he will be on the other side of the field and beat you to death. I want this kid on MY team. He's multiple, he's got more than one elite skill and he could be an electric return man on top of that. Plays created just for him? Hell yes I'm going to scheme for his skills specifically! I'd be a fool not to. He can provide you with efficient production and can score when you set him up for success. Value? Anything past Round 4 is extremely good value for what he brings. His ceiling is likely WR3 but he will stick there for a good long time as an impact player.
GOOD: Outstanding size, huge hands and excellent arm length translate to a guy who can go up and get the ball. His body control is elite and allows him to get up and dance with DB's on contested catches. Has upper body power and strong hands. Ran a good 40 time and that matches with his play speed. He's a classic large X who can go up for the ball and can be your Red Zone threat all day long.
BAD: Has absolutely no idea how to leverage his physical skill set. Simply does not use his bulk, his length or his suddenness to his advantage. Lets DB's into his chest and hands and gets bullied. Susceptible to press jam and redirect from even smaller DB's.
BOTTOM LINE: Custis had non-existent production at Syracuse and that is shocking considering his physical profile. He should have been destroying college secondaries but instead they were pushing him around. He lacks quickness, route refinement and the ability to use his gifts. I think he's going to be someone's WR5 for a while and if he works hard for a few years he might come up to WR4 with the ability to provide some Red Zone production. Would not touch him prior to Round 6.