Well that was an intense couple of days…
We learned some things in this Draft and we collected some good players. Some with tremendous potential and some quality depth guys. We needed both as we continue down this path of building a Playoff team. Like we discussed in previous posts, it's a process and we are early in that process. We have 2 to 3 more years to go folks and it's gonna be bumpy…
Remember what we are trying to do. This is the professional Franchise model we are trying to put in place:
Hire a GM who can evaluate talent properly (CHECK…)
Draft a Franchise QB (CHECK…)
Hire competent OC and DC and install schemes you will stick with (CHECK…)
Maintain continuity in schemes and coaching staff (IN PROCESS…)
Identify your ideal player type and skill sets and draft and trade for only those that fit (IN PROCESS…)
Always have high quality depth players ready to replace your starters (IN PROCESS…)
All sounds simple, right? Well it's taken us 20 years to get this right, so at least we are underway.
Dorsey and company are starting to show their cards when it comes to player types and scheme fit requirements. Some of the post-draft press conferences they held were pretty interesting and they talked about some of what they were looking for in players.
The rest we just figure from who they took in the draft again this year. Thank god they focused on Defense because that is what we desperately needed, and still do even after they filled some holes.
They are clearly focused on speed, and said so in the press conference after taking several players in the early rounds. Last year they took several guys that also made this clear, including Antonio Callaway.
Athleticism, especially the explosive qualities like vertical and broad jump are also highly prized, showing up in all the players they drafted, including for O-Line! This is pretty much following the SPARQ model, but they seem to find the combination of speed and explosion
Versatility is important, they want the most bang for their buck out of as many players as possible. This is not new in the NFL, but it has never been well executed here.
Length is something Dorsey is focused on and he has been talking about it for months leading up to Free Agency and the Draft. The players they took in the Draft and the UDFA's that are so far being reported as signing with the Browns are primarily tall guys, above 6'0″. Length increases batted passes, increases tackle radius and allows DB's a better chance to defend passes.
Character issues are not an issue, but you better love to play the game. Dorsey will overlook a lot, but he won't put you on the team if you don't want football to be your focus 100% of the time. Preparation, dedication to film study, knowing your opponents. He is going to ask a lot of every player on the team.
All of these traits come out in some combination with all the picks this year. Let's take a look at what they did…
1st Round – Odell Beckham Jr. WR (LSU/NY GIANTS) was not only brilliant but very cheap in terms of the trade. What Dorsey had to give up was pennies compared to getting, at least, the third best receiver in the entire NFL. What will not be cheap is a new contract, which is coming. Make no mistake, OBJ will expect to get paid. What will be interesting is how long the contract will give us control and what kind of guaranteed money he will get. Antonio Brown just got $50M on 3 years with $30M guaranteed. That's Lotto money! But we can't avoid it, so he will become our first huge contract load.
What we can't afford, is OBJ to be hurt all the time. We need him on the field making a difference. Just like any elite player we have, his performance on the field is the only thing that matters and if he can't be counted on, he is no better than a practice squad guy…so that's the rub. Looking at his stats, the last two years were a production disaster for him, largely due to missed games. His stats all hang with the three years prior in terms of averages, he just didn't get on the field and that destroyed his value to the team.
One more thing, he has to be good for the locker room. Our ability to make the Playoffs and win at that level is going to require many leaders, he has to be one of them.
1st Round Player GRADE: A+ for Talent and Value

2nd Round – Andraez "Greedy" Williams CB (LSU) is a gift bestowed on us this weekend. We should have had ZERO shot at getting him without moving up, but he fell for a number of reasons, and he fell right into our lap! This could become that Hanford Dixon/Frank Minnefield type secondary we've all been pining for 15 years to re-create. Pairing him with Denzel Ward and Terence Mitchell has the potential to be special. Ward can play slot at times when match-ups require it, while Mitchell and Greedy play the outside since they both have length.
Greedy is 6'2″ at 185 lbs and ran a 4.37. He dropped partly because his tackling is less than stellar, but Dorsey made a point in his press conference to not give a shit, very publicly, so he shut that down quick. They will make sure he improves in that area. Since he was expected to be a mid to high 1st Rounder, I didn't even do a Player Eval on him. So here is what my favorite player evaluator had to say about him:
Drew talks about his determination to be great, his versatility and how important his leadership is going to be. He's exactly right, and guys like OBJ and Jarvis Landry coming from LSU and being in the league 5 years already should both take him under their wing. Denzel Ward is very quiet, kind of like Nick Chubb, so he's going to need to be around guys with a personality like his. And damn does this guy have personality! I love that desire to win and to put in the work to be great. Dorsey trait all the way. He is going to be fun to have on the team, and once he gains his confidence on the field like Ward did, he's going to start becoming an important player for us.
Dorsey moved up to get this kid because Dorsey is fearless and a shark and he takes advantage of other people's weaknesses. He is a very bad man…
2nd Round Player GRADE: A+ for Talent and Value
3rd Round – Sione Takitaki LB (BYU) was a surprise pick, at least in terms of name. Once we understood why they took him it made more sense, but still got a fairly lukewarm response from the general fan base. The consensus was that we needed to take a LB high, so this slot was what we all assumed would produce a guy, but Takitaki was generally considered a 5th Round or later guy. He goes 6'1″ at 238 lbs, so good weight and length for a guy who is a natural WILL but can play multiple positions and at BYU played the Star position hybrid role.
It is most definitely a Dorsey Special…and his two best scouts, Highsmith and Wolfe, did a press conference to explain the pick. There were however, several bigger name Linebackers on the board when we took him (including Mack Wilson!), so there has been quite a bit of grumbling. We all tend to want that player with a name you've heard and the pundits have praised so we can feel good about the pick. But we better get used to this…Dorsey plays by his own rules and produces players like Genard Avery last year. And the thing to remember is that Dorsey realized that this was a VERY weak draft for Linebackers after the 1st Round, so he just targeted the guy who fit his need the best. The other guys available were largely the wrong profile.
Eliot Wolfe said he "plays with violence"…that normally is music to our ears and it should be. More importantly, Takitaki is going to fit that hybrid LB/Safety role that Wilkes wants to run. He is a very good athlete, has excellent speed, range and processing skills. His Combine numbers are a little deceiving as his play on the field is better than what you see on paper.
A number of evaluators felt he was a bit more finesse than classic thumper so they described him, as I did, as lacking physicality and I think that was because he's not your normal rocked-up LB. He's solid but not massive in the upper body. Wolfe and Highsmith disagree with that assessment clearly, and think he's going to bring a fast, heady hitter to the field. Nothing sucks about that if it turns out to be true. I will say that watching his highlights I saw a kid that once he got hold of you, it's over, you're going down. He was absolutely f*cking relentless, always. Really incredible tenacity.
Here is the summary I did on him. I did not do a more detailed Eval as he was not a clear Browns target to me.
His stats are incredible and that is what should make us all feel better about this pick. Not only did he have piles of tackles, so he was around the ball constantly, but he had ridiculous TFL numbers along with Sacks and even Passes Defensed! Very similar to Genard Avery, dude is a baller in the backfield and a playmaker in the flats. If Dorsey and his guys are right, we are going to really like this kid.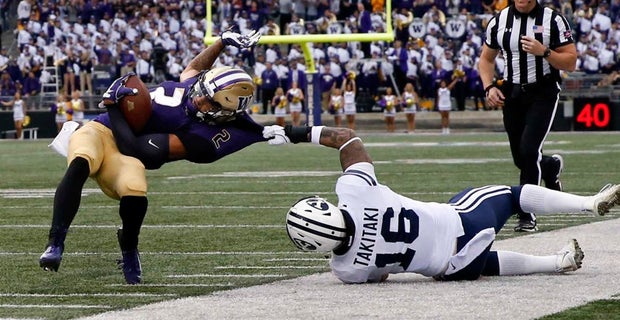 3rd Round Player GRADE: C for Slot Reach
4th Round – Sheldrick Redwine FS/SS (MIAMI) was a definite need pick and he represented the best Safety still available outside of Deionte Thompson. While Thompson might be an earlier starter than Redwine, I believe Redwine has the higher ceiling long term and will earn his way from Special Teams demon to a starting job. He is a kid that will be very multiple, able to play split-zone, in the slot and with some refinement, in coverage too. Thompson is pretty much a single high Safety only.
Redwine goes 6'0″ at 195 lbs and ran a 4.44 at the Combine. He's a mix of aggressive run support and true ball hawk. His ball skills are excellent and one of the plus traits he brings. Play speed is very good to excellent and he should be a very well-rounded player with starter upside in two years once he gets some game experience.
I will call this a Highsmith Special because we've got like 6 players now from The U…he spends a lot of time down there himself checking out players and finding guys he likes for the Browns. Njoku, Callaway, Chad Thomas, Duke, Ray-Ray Armstrong and Olivier Vernon are all Miami alum! He loves the speed and physicality of the players coming out of this program, and Redwine is no different. Where maybe Alabama players tend to be more pro-ready with technique, Redwine has great traits to play at a high level in the slot, up on the line and in split-zone. He needs work in coverage but he will get that good coaching and lots of practice reps here.
Here is the Player Summary and Eval I did on Redwine:
GOOD: Best friends with Jaquan Johnson, he's very similar in level of production and likely draft status. Strong, sure hitter, doing great work in the box with surprising authority. Looks to strike. Versatile to play Zone and in the box and potentially as a blitzer. Has played both CB and Safety at Miami. Good to great speed and quickness. Brings power into his tackles like a kid with his size should. Excellent ball skills.
BAD: Not great in coverage, sometimes a liability. Does not possess the instincts required to play a lot of man. Despite being a good athlete and having adequate speed, does not have a natural feel for positioning and trail requirements. Lacks a sense of urgency in coverage so plays to far off and allows catches then makes the tackle. May not trust himself yet technique wise.
BOTTOM LINE: What Redwine lacks in coverage skills may be at least partially fixable with coaching and reps. Will give you more than adequate depth player skills to keep you in the game and might make a splash play here and there. Has some upside but needs to figure out his technique issues to ever be trusted as a starter. Need to be comfortable that his lazy work in coverage is not motivation problem.
Average overall production as you would expect. Started to put it all together late in his college career and stats reflect it. Excellent value in the 6th Round or later.
4th Round Player GRADE: B- for Slot Reach, But Solid Need and Versatility
5th Round Pick 1: Mack Wilson ILB (ALABAMA) was less of a surprise drop, but how far he dropped was certainly shocking. But this was to our benefit as we got a Top 25 talent in the 5th Round which is amazing value. The part that we have to consider though is the why. He dropped because he is a somewhat limited athlete despite have some elite traits. He is fluid but his lateral agility is a little suspect. He is fast but lacks the level of explosion you'd like in the open field.
He is strong, aggressive and physical but because he lacks experience and struggles with processing, he is a bit of a disaster in the run game from the standpoint that he is a see-the-ball-get-the-ball guy. He makes splash plays between the tackles, showing a great level of aggression and hitting power, but he's not finding those plays enough on instinct. He has trouble taking on blocks and knowing when to stack and hold versus stack and shed. He also moves out of his gap at inopportune times so he creates cut backs and wider lanes. His main problem appears to be lack of experience so his instincts are not developed well at all. Remains to be seen if it's going to improve with reps or if he lacks the mental capacity and natural instincts for the position.
Wilson goes 6'1″ at 240 lbs and ran a 4.60 at his Pro Day. So he has good size and great game speed, even though his timed speed was on the slow side. For comparison, Takitaki also ran a 4.60 and is considered very fast on the field. Wilson definitely fits the profile of the modern Linebacker in the NFL with range, size, speed and some power. He definitely can cover TE's and RB's which is a plus skill. Needs some polish there but does well in trail and has shown good balls skills in zone which is something the coaches need to encourage by putting him in position to make those plays.
He gets criticized for focus lapses during plays where he loses the ball or his assignment, which is concerning for a kid who is likely going to have the chance to be the field general in the future as a MIKE, so he has a long way to go there. Some evaluators have said he won't be a 3 down Linebacker unless he learns to read his keys and be more proactive in pushing the fight based on his reads rather than sitting back on his heels waiting for things to come to him.
Like Greedy Williams, I did not do a Player Eval for Wilson because I assumed he would be long gone by the time we picked. Here is what Drew Boylhart said about him on The Huddle Report:
What Boylhart describes here related to his play on the outside is really concerning to me. What it feels like a little bit is did we just draft Jamie Collins 2.0? All the athleticism and ability in the world, but lacking in discipline, instincts and at chooses when to make plays and when to lay back. I don't want a player like that on our team and I think if he starts to show those signs, he won't be here long either. Collins got cut not just because of his salary, he didn't play hard and it showed on film. We need to watch this kid like a hawk and ensure he develops properly.
I do see in his stats below that his production had started to rise, so he was starting to make more impact plays but for a kid at Alabama, his production is terrible. He has a lot to learn and a lot to prove here. If he succeeds, we win big time.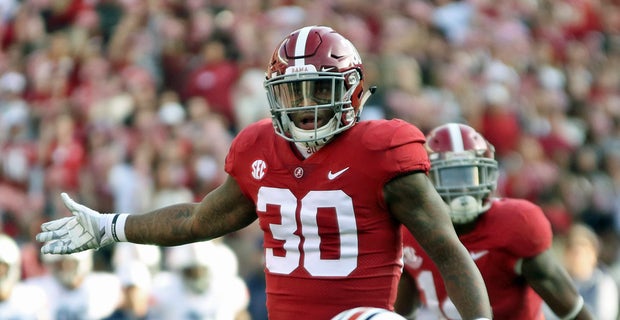 5th Round Pick 1 PLAYER GRADE: C+ for Time to Impact, but would have been C- if not for excellent Slot Position
5th Round Pick 2: Austin Seibert K (OKLA) was a shock and did not sit well with me. There were so many other quality players available at that slot and in my opinion should have warranted higher priority. Guys like OG/OC Lamont Galliard, DT Armon Watts, DT Daylon Mack, DT Isaiah Buggs, WR Kelvin Harmon, other good CB's and SS's as well. I believe full well that in the 5th Round there are players of good enough quality to become high level contributors as depth, and once in a while you will hit on a starter.
Shame on us for having a kicker SO SHITTY that it required the team to feel compelled to spend 5th Round Draft capital on a new one. This new kid better be the goddamn reincarnation of Lou Groza…I was so angry I scared the shit out of my dogs. Once I explained to them why I yelled so loud even they understood!
Seibert goes 5'9″ at 214 lbs, so he's not light in the shorts. What I am starting to hear is that despite his lack of production beyond 40 yards, he "has a cannon for a leg" per our Special Teams lead scout, and he is not worried about him being productive in that range. He is focused on the fact that he is money on PAT's, has a huge kick off range and is quite a decent punter in case he ever needed to fill in.
Ok, so we've got someone who is less likely to miss our point-afters, is likely to be accurate within 40 yards and can punt. Hooray…I am not giving anyone participation trophies for Special Teams. We should be ashamed of ourselves for needing this kid. Here is his production in college:
Before we get all giddy and start defending this pick, let's remind ourselves what we bought into when the team drafted Zane Gonzalez a few years ago…his college production looked amazing too. And he shit the bed worse than any rookie in recent memory.
Lou Groza was an Offensive Tackle first, and was our kicker simply because he had the ability to do it. He always considered himself a Tackle. I will cut this kid some slack and not make him play Defensive Tackle because that's the depth player we missed out on to draft his dumb ass. By rights, he oughta have to go in and play DT when our starter goes down and we're not getting any pass rush…
He better be our kicker for f*cking 10 years.
5th Round Pick 2 PLAYER GRADE: D for this being a significant Need and for the Loss of a Better Player as a result..
6th Round: Drew Forbes T (NE MISSOURI ST) was another surprise pick. Not that I didn't expect them to address the O-line at some point. But who the hell is this guy? I mean I realize once we get to the 6th Round we're in "who is the team in love with?" kind of territory, but I also believe that you should always be looking for the best of who's left…and there were a bunch of guys that I would have jumped on instead. This range in the Draft is full of GM and Coaching hubris. They believe they can find that diamond in the rough. They believe they can coach up anyone who has excellent base traits. In other words, do their job? So to me that is a weak supporting conversation when you take a guy like this.
We are going to have a similar conversation when we get to the last pick, CB Donnie Lewis, who has some real challenges physically and I am baffled why we're taking a flyer on him.
Forbes is 6'5″ and 305 lbs. He ran a 4.96, benched 28 times and jumped 30.5″ on his Pro Day. That is pretty special. What is not special is the fact that his arms are pretty damn short at 32.75″. Is that a killer? Maybe, maybe not. Lance Zierlein from NFL.com says that will push him inside to Guard. Maybe that's the plan, maybe not. His toughness shows up on tape, and he clearly loves to play. He is an upside guy per Colton Chapple from our scouting department. Chapple likes his feet, which would aid in his move inside if necessary.
I am not against Drew Forbes. He sounds super exciting. He appears to be really mad all the time and pancakes the crap out of his opponents. I watched some of his highlights and it's so intense to watch that I started to feel bad for the players he was wrecking! I think he's got some traits that you like and he might show up quickly. However, level of competition is probably what concerns me the most. Attitude, athleticism and physical make up all sound excellent. But we have not seen him tested. He was an alternate for the Senior Bowl, but did not get called.
Given our roster, when the hell is he going to get playing time? Our depth chart on this team at O-Line is stacked with mediocre NFL experience and youthful incompleteness. So we added another one? Why not put more depth where we are light, like DT and EDGE? Hell you could've taken that DT or DE in this slot and STILL gotten Forbes in Round 7…pretty likely folks. Pretty likely. This is what makes me go ballistic on Draft weekend!
I must remind myself that I am not a Scout, I am an idiot fan who likes to write about the Draft. I am no evaluator…
6th Round Pick PLAYER GRADE: C- for Slot Value, Level of Competition and Better Players Still Available
7th Round – Donnie Lewis CB (TULANE) is our version of Mr. Irrelevant. Poor Donnie, he's a victim of the numbers game late in the draft because teams are trying to protect their favorite UDFA projects. Donnie should not have been drafted in my opinion. And he's unlikely to have been a great pick up even as an UDFA.
Donnie is missing most of the physical attributes you'd want in a Cornerback. He might be 6'0″ at 195 but boy does he look small and play small. He ran a 4.60 but does not appear to be fast on the field. Dude is NEVER looking to tackle…I watched one set of game highlights on Donnie (Wake Forest) and was far from impressed. He avoids tackles, avoids piles, avoids assists and must think his only necessary contribution is to get pushed around by large receivers and to look for balls to bat down or intercept. He doesn't seem to realize tackling is part of his responsibilities. It's maddening quite frankly.
I probably need to give Donnie a break given his Draft position because we shouldn't expect great things from every 7th Rounder. And we will forever feel like there are "better" guys we could have picked instead, especially this late in the Draft. But, I want us to improve in the trenches and on the edges and right now they are both still a large concern. Can't fill every hole in one off season, but depth is always within reach. Donnie feels like a camp body who is going to get yelled at constantly for being out of position and not wrapping guys up. Just like in The Big Lebowski, coach will be like "Shut the f*ck up Donnie!" and "Quit f*cking around Donnie!"
My sister tackles with more authority than Donnie…
But what Donnie brings to the table apparently, is ball skills. Take a peek at his college stats below. Not bad for an UDFA practice squad quality guy. It will potentially be enough for him to survive camp, but the level of competition in the NFL is going to eat him alive. And he does not appear to be cut out for Special Teams unless he is the ball getting kicked…I just don't understand, why this kid? In order to make splash plays you have to get on the field. And I am having trouble picturing how Donnie his going to do that, even if there are injuries. If enough guys get hurt for Donnie to start, we are f*cked in the ROYAL sense!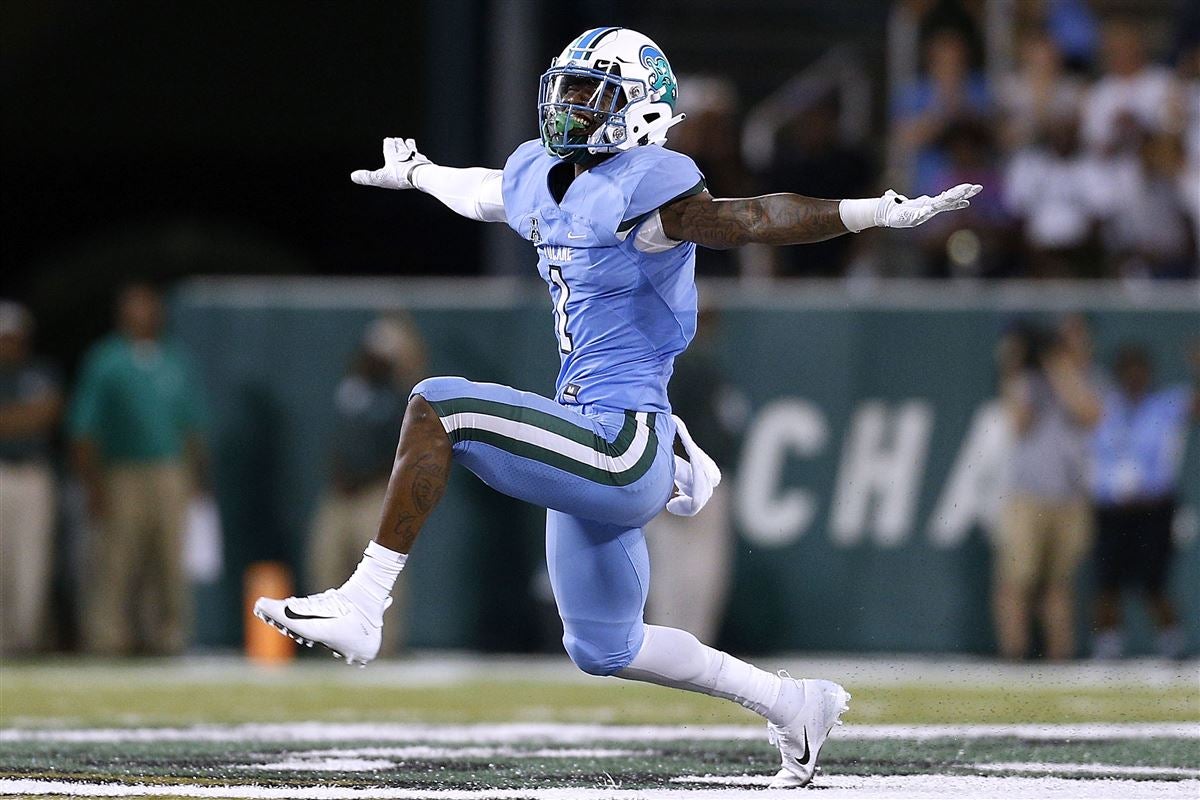 7th Round PLAYER GRADE: D is for Donnie!! For Poor Tackling and Better Players We Missed Out On…
So…to close out this recap my overall grade, on a curve, is a B-
We have to take into account how atrocious the talent was in this Draft due to lack of elite talent at more than 2 positions (DT and EDGE). After Round 1 the talent level dropped horribly and it all became a bit of a crap shoot.
All in all Dorsey approached this Draft by targeting positions first, then players later. Can't hate on that approach, it's necessary in a shitty class like this. We will find out who can make and stay on the roster soon enough…